To Join WAFHS


2023 Harpers Getaway


Application for Charitable Honorarium


WAFHS Members' Events


Harp Teachers


Harp Circles


WAFHS Members' Pages


Harps for Sale!
Harps for Rent!


Fundraisers
(Finale Book,
Song of the Selkie)


Photo Gallery


WAFHS
Volunteers


Harp Links


WAFHS Documents


ISFHC



The Washington Area Folk Harp Society started in 1982 as a group of friends meeting every other month to play tunes together. From this start, the group has grown into a full-fledged society and a chapter of the International Society of Folk Harpers and Craftsmen, Inc.

Continuing with the intent to meet people and learn tunes, our activities include:
Educational workshops
Harp rental program
Listing of local harp teachers in the area
Regular newsletter and bi-monthly calendar of events
Participation in a variety of music festivals, including the Southern Maryland Celtic Festival and the Northern Virginia Scottish Games
Harp gatherings to play music together
Yearly "Harpers Getaway" in November with nationally and internationally recognized teachers
WAFHS relies on the talented and generous volunteers who help run the society. Here is the list of volunteers.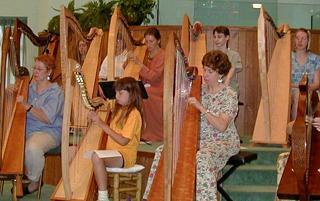 2023 Harpers Getaway

The 2023 WAFHS Harpers Getaway will be November 3 - 5. WAFHS is pleased to announce that the guest teachers for this year's Getaway are Sue Richards and Abbie Palmer.
The Getaway will be held at the Shepherd's Spring in Sharpsburg, MD.
Information about the Getaway may be found here.

Honoraria for Charity Performances

Information about the WAFHS honorarium for charity performances is now available. The application form is also available.

Harp Circles

WAFHS encourages its members to participate in harp circles. Here is a list of harp circles in the greater Washington, DC, area.